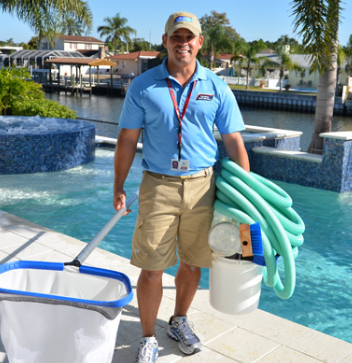 Come Home to a Sparkling Clean Pool
We strive for quality at each pool cleaning. We take every measure to ensure that your pool is properly cleaned, operating correctly and is in a desirable and healthy swimming condition with the correct chemical balance maintained during each service trip. By keeping your chemicals in proper balance the longevity of your pool's pumps, filters and submerged surfaces are preserved and extended to their maximum potential.
Some of our competitors do what we call "Splash and Dash", where their service man runs onto your property and quickly dumps unmeasured amounts of chemicals in your pool (often in excess), nets out a couple of  leaves, then races off to the next pool. You come home and your pool appears semi-clean so you are none the wiser, but in the long run this can be costly to you.
All equipment will eventually fail. But you can count on All Natural Pools and Spas to maximize the life expectancy of all your equipment, saving you money and time in the long run.
We offer these pool service options:
• Weekly Pool Cleaning (most popular service)
• Twice Weekly Service
• Bi-Weekly Pool Cleaning (every OTHER week)
• Chemical-only service
• One Time Pool Cleaning (party prep, etc)
• Vacation Pool Cleaning
• New Pool Start-Ups
All Full-Service visits include:
• Skim pool surface
• Empty skimmer and pump baskets
• Vacuum, brush tiles and walls
• Clean filter and backwash as needed
• Empty auto-cleaner bags
• Test and balance the chemicals
• Load chemical feeders
• Keep chemicals at optimal levels
• Check for leaks or malfunctions
• Lubricate parts as necessary
Monthly service fees based on:
• Size of pool
• Age/condition of components
• Condition and type of pool surface
• Screened-in vs. open-air
• Nearby trees, shrubs, vegetation
• Chemical demand of pool
• Access to pool
• Location
Our Pledge:
We will show up and service your pool at the proper scheduled interval.
We will service and clean your equipment and pool to the highest standards in the industry.
We will carefully measure your pools Chlorine and PH levels on every visit and add the proper amount of chemicals accordingly.
We will notify you whenever possible of pending issues with your equipment or pool before it fails completely.
We will communicate with you and keep you in the loop about all issues with your pool.
Call owner Ron Ohman today for a personalized quote!
561-969-7590